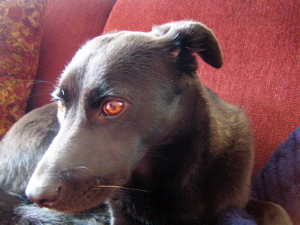 rosiethedog
"Rosie The Dog"
Your Active Profile:
rosiethedog
ME
I am a: dog
Seeking a: dog
Interested In: Friendship, Capering, Walks, Snausages
Age: 2
Location: Northampton, Massachusetts
Country: United States
Occupation: dog
Education: I am lerning not to bark at teh woman downstairs
Ethnicity: black
Religion: spiritual
Star Sign: ???
Relationship Status: Single
Have Children: No
Want Children: spade 🙁
MY GOODS
Height: 2′ 0″
Weight: 30 lbs
Hair: black
Eye Color: brown
MY HABITS
Cigarettes: Never
Booze: Never
Drugs: Never
Self-love: What
Self-deprecation: Never
Last great book I read:
The Corrections by Jonathan Franzen
Most humbling moment:
One time I got my nails clipped and I peed myslf!!?
Celebrity I resemble most:
I hav heard Chtistna Ricci but I dont see it
Best or worst lie I've ever told:
I dont care abtou tht snaugage right now
If I could be anywhere at the moment:
In the woods!!!!!!!!
WHY YOU SHOULD GET TO KNOW ME:
do you hav any snausages? or do yuo knwo where we could get som. chek yuor pokets, they are soemtimes in ther